To be successful in school and live a full life, children need to be healthy. Our medical programs are ensuring the health and future of children and families in Rwanda.
The Dream Medical Center will be open for the public, creating sustainable income to serve the poor.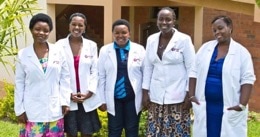 Each of the communities where Africa New Life works has a community nurse. These nurses work directly with each sponsored child in the community ensuring medical concerns are cared for quickly.
Learn about our Emergency Medical fund, which covers the cost of children with special medical needs.