To be successful in school and live a full life, children need to be healthy. Our medical programs are ensuring the health and future of children and families in Rwanda.
The mission of the Dream Medical Center Hospital is to create a sustainable health care model of compassionate excellence in which patients are served through their physical, emotional, and spiritual needs, for the glory of Jesus Christ.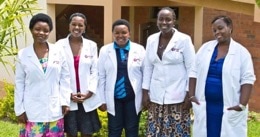 Each of the communities where Africa New Life works has a community nurse. These nurses work directly with each sponsored student in the community ensuring medical concerns are cared for quickly.
Our Special Medical Fund covers the costs of more extensive medical needs that community nurses cannot easily address, including surgery, vitamin deficiencies, and more.