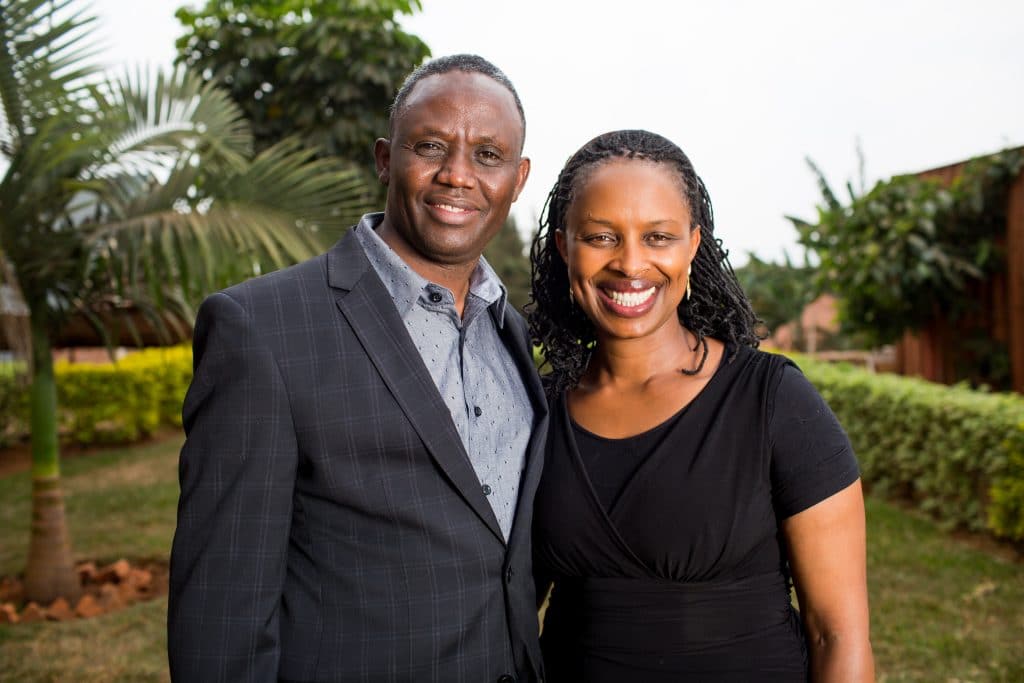 Charles and Florence Mugisha were born to Rwandan families living as refugees in Uganda. Charles' parents fled Rwanda after the first genocide in 1959. Life was not easy for refugees in a war-stricken Uganda under the rule of several dictators.
As the war came to an end, Charles wanted to return to school. Desperate to finish his education, he began praying. Tears streamed down his face, and Charles felt connected to God for the first time. He began to attend church in a neighboring village and gave his life to Christ. Just a few weeks later, Charles joined with other young people and began preaching the gospel on the streets.
Charles and Florence met while attending Reformed Theological College in Kampala, Uganda's capital city. While Florence was planting a campus church, Charles began ministry in a nearby suburb of Kampala in Gaba to work with a church planter. Although the spiritual opposition in that village was strong, Charles and his mentor, Pastor Peter Kasirivu, prayed and persevered in their ministry. Eventually, a church was established, and hundreds of people started coming to Christ. Today, a church of more than 2,000 people and various ministries serving the poor are in that community.
In the early nineties, Charles was a missionary in England and Northern Ireland. In 1995, after the 1994 genocide in Rwanda, Charles returned to his family in Uganda and discovered that his father had returned to Rwanda. Charles followed, and even though the war had ended, Charles saw signs of death everywhere. When he saw the orphaned, widowed, and homeless, Charles knew he had to help.
From an early age, Florence believed in the impact of educating girls. Education was out of reach for many Rwandan children in her generation, especially refugees. She was expected to stay at home, take care of children, or work in the fields. However, Florence loved school so much that she snuck away whenever she could to learn. Her family finally recognized her passion for education and let her go to school.
Charles and Florence attended Multnomah University in Portland, Oregon, where they both acquired master's degrees. In 2001, while pursuing his degree, Charles wrote the ministry plan for Africa New Life. That summer, he and Florence returned to Rwanda to see what God wanted to do through them and the ministry. When they returned to the U.S. the next semester, Charles and Florence brought 30 pictures of children who needed sponsorship, and the ministry was born. Today, Africa New Life provides for 11,000 students who are working toward a high school education, vocational training, or a university degree.
Florence knew that young girls without education were particularly at risk to become abused by their employers. In response, she founded a ministry within Africa New Life called New Life Family Center, which provides vocational training and spiritual rehabilitation for women. Many of these young women are genocide survivors, and the Family Center also provides counseling and reconciliation for women of various ethnic backgrounds learning to work together. Florence's ministry both through Africa New Life and beyond empowers women to overcome personal pain and a lack of education to pull themselves out of poverty and live to their fullest potential.
Charles completed his doctorate through Gordon-Conwell Seminary in 2015 and continues to serve as the lead pastor of New Life Bible Church in Kigali and as the President of Africa New Life. Florence serves as the Director of Women's Ministries for Africa New Life and is a motivational speaker and a dynamic communicator of the good news of Jesus Christ. Together, Charles and Florence are raising their five children, Isaac, Jonathan, Sarah, Bella and Joseph.
Africa New Life staff from Rwanda, including Charles and Florence, and staff from the United States have been featured in several thought-provoking podcasts about ministry. We invite you to listen to what our leaders have to contribute to current conversations about faith, education, and intercultural teamwork!
Featured Podcasts