THE HELPING HAND FUND
The Helping Hand Fund covers the cost of sponsored students whose sponsors, for whatever reason, can no longer commit to providing for their education. This fund covers the cost of sponsorship including school fees until a new sponsor is found. This fund is vital, because students without sponsorship funds may eventually be unable to continue attending school.
Give to the Helping Hand Fund
THE SPECIAL MEDICAL FUND
While the cost of sponsorship covers access to a community nurse and related basic medical care, occasionally students suffer from more serious illnesses or injuries requiring special medical attention. To address these needs, Africa New Life has created the Special Medical Fund, which covers needs such as surgery, vitamin deficiencies, and more.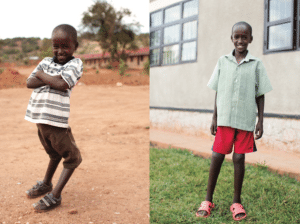 From time to time, Africa New Life is able to provide special medical care to students with particularly urgent needs that cannot be fully addressed in their home country. In these cases, students have been brought to the United States or other countries for specialty surgeries or other treatment and rehabilitation. Our community nurses and Rwandan sponsorship staff are key to identifying medical cases that require more extensive care than is locally available.
Give to the Special Medical Fund