Health directly impacts the education of children in Rwanda. If children are healthy, they attend school and have a better chance of completing their education.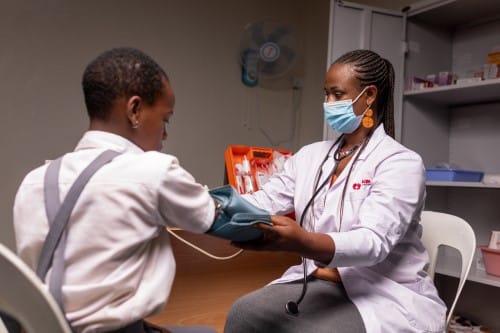 Each of the communities where Africa New Life works has a community nurse. These nurses work directly with each sponsored student in the community and serve as many children's primary care provider. Nurses also act as liaisons to help families navigate more extensive medical needs at hospitals or clinics.
Give to Support Community Nurses
Our community nurses support the well-being of community members in several ways: 
They perform basic medical exams for sponsored students
They assess sick children and accompany them to community health centers
They dispense basic medicines where needed
They visit sponsored students' homes and support parents in providing care to their children
They assist medical teams on the ground
In 2018, with the launch of the Dream Medical Center in Kigali, our ability to provide excellent medical care to those who need it in Rwanda expanded significantly! Our community nurses now report to the medical center and have access to the expert doctors working there.
Your one-time or monthly gift toward our community nursing program helps ensure that our nurses continue their medical care for sponsored students and provide community education for the parents and guardians of children, bringing better health to entire communities.
Learn about the Dream Medical Center