A SPONSORSHIP STORY

Annette Mugunga. Photos © Esther Havens Photography.
For Annette Mugunga, everything points back to the love of God and the power of child sponsorship.
Born in Uganda, Annette moved to Rwanda with her mother as a little child. "My growing up was in a very humble background. I was raised by many hands. My father had passed away when I was too little to know him. My mum had to raise me alone, and it was only with support from different relatives that we were able to make ends meet."
School was unaffordable for Annette and her mother. But by God's grace, she got sponsored through an organization that helped her all the way through Senior 5 (grade 11). For her final year of school, she and her mother were on their own again. With no hope of continuing on to university studies, Annette decided to look for a job and found an opportunity to teach young children. "In that place I learnt to love and to be patient. I watched every person I went to school with advance and there I was, teaching those children basic education, and choosing to love on them."
One evening, she saw a poster featuring Africa New Life Ministries. She wondered whether Africa New Life might have possibilities to offer her. She began attending New Life Bible Church in Kigali and built relationships with Africa New Life staff and families there. Some time later, and six years after completing her schooling, Annette decided to attend the ministry's discipleship trainings for Senior 6 (grade 12) students. There she was asked to share her story. Not long after this meeting came the call that would change her life: "They called me, asking if I would want to go back to school."
So in 2010, Annette went back to school to complete Senior 6 a second time and improve her national exam scores. The next year, she received another call from Africa New Life, asking her if she wanted to continue with university studies through a post-secondary scholarship. "I went, 'Wow!' I was so thankful to God that He had remembered me."
Annette pursued a Bachelor's in Tourism and Hospitality Management. As she enrolled for her third and final year in the program, Annette received a third call from Africa New Life, this time asking if she would work as a Child Care Officer at the Dream Daycare. "This was easy for me; I loved children and I had a passion for helping them!" At the daycare, Annette met incredibly vulnerable children, the sons and daughters of women enrolled in Africa New Life's women's vocational programs. She felt a certainty that "God put me here to encourage the mothers and love on their kids."
A STORY TO touch many lives

At the daycare, Annette met a Vocational Sewing Program participant named Hillarie and her son Moise. At that moment, she was certain God was calling her to do great things for his Kingdom. "Hillarie's hands were burnt, and Moise looked malnourished; at that moment I was curious to know more about her. Beneath those hands lay a testimony. I knew it was very strong, and it would touch many lives."
In the early weeks, two-year-old Moise cried constantly. Annette was anxious to help Moise love the daycare. "Moise was such a sweet boy and would cry from morning to evening until his mum came to pick him up. I asked his mother what I could do to keep him calm and to have him trust me as a caretaker? She said, "You will have to carry him on your back!" So Annette carried Moise on her back for almost three weeks while his mother attended her sewing classes, finally helping him feel safe.
By the end of that year, the two had grown fond of each other. "Moise wanted me to feed him and care for him, and we grew closer. When I was transferred from the daycare to the missions team, I kept on following up with his mother."
After her year in the Sewing Program, Hillarie still had many challenges in her life, and she sought out Annette, telling her that the needs in providing for her little family were much greater than she could handle. "Each time I would think about Moise, I would think about my own life growing up, and I felt a strong call to sponsor him, to open a new door in his world. I had been loved by other people that didn't know me, and because of that God gave me great love for Moise."
So Annette sponsored Moise, allowing him to attend school and giving him the same hope and confidence she had received as a young woman through sponsorship. She also continued encouraging Hillarie and speaking into her life wherever she could. Eventually, Hillarie gave her life to Jesus Christ and got baptized. And then more changes took place. "She put the sewing machine she was given after her graduation in front of her house, she worked very hard, and she started earning a decent income to cater for her other needs and those of her children."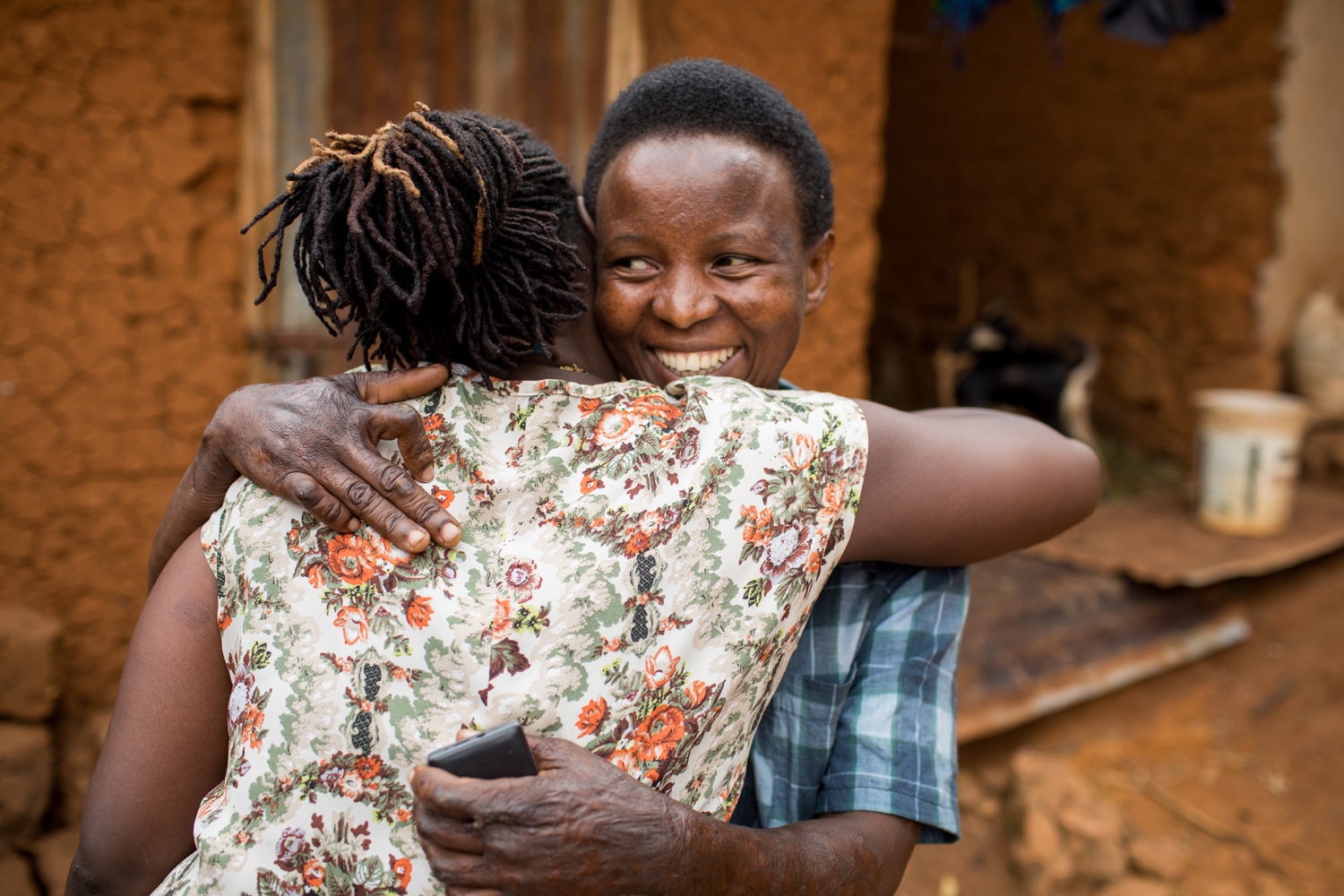 For Annette, the opportunity to sponsor Moise after having been sponsored herself is a dream come true. "I wanted to be here way back and I couldn't, to be somewhere were everything was working out for my good. This has been a super significant time God set for my life beforehand; God himself wanted to elevate and put me in a right position. God chose to work in my life through Africa New Life. It's here that I was allowed to dream again, and I am just humbled to be able to do it for someone else as well."
"I don't want to know where I would be if I hadn't been sponsored. I would be lost, desperate, depressed, hurt, and possibly married at a wrong time, making the most wrong decisions. I am so thankful God didn't let that happen."
In recent years, Annette has had the privilege of working alongside thousands of sponsored students and their families in the role of Missions Officer for Africa New Life, and she and her husband currently serve their community and share the gospel through their own ministry. Over the years, Annette has had the opportunity to watch Moise thrive, grow, and dream through his sponsorship. She believes that as he grows up, finishes his education, and pursues the life God has for him, he will discover more dreams… She knows, because it's happened to her, too.
Hillarie, part of Annette's story above, was also featured in a film by Skyparkfilms.com. Watch the video below to learn more about all the ways God is working in Hillarie's life!