"Providing girls with an education helps break the cycle of poverty:
When all children have access to a quality education rooted in human rights and gender equality, it creates a ripple effect of opportunity that influences generations to come. —UNICEF
There is no doubt that education is the best tool we can give young women to help them escape the cycle of poverty. But female students face special challenges each month as their menstrual cycle approaches. While a regular cycle is a sign of good health, it also represents anxiety, shame, and logistical challenges for young women who don't have access to sanitary products. 
Around the world, young women without access to the right products often turn to using less sanitary materials instead, risking infection, or they simply stay home from school until their period is over. In fact, 1 in 10 girls worldwide miss class due to their monthly cycle.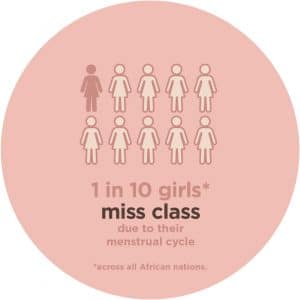 Those missed days add up quickly over a young woman's scholastic lifetime, putting her behind her peers. For this reason, sanitary products are as important as a backpack for female students.
The challenge is that sanitary products and other hygiene items are financially out of reach for many students and their families. In fact, one box of sanitary pads can cost as much as a whole day's wages for Rwandan women in rural communities! You can help instill dignity and tangibly meet needs of young women in Rwanda by purchasing Girl's Hygiene Kits through our online store.
You can help a young woman escape these statistics with the gift of a Girl's Hygiene Kit through our Online Store. Our hygiene kit provides three months' worth of products that help each girl meet a sufficient standard of menstrual health management as defined by UNICEF. One kit costs $24 and includes sanitary napkins, deodorant, body lotion, lip balm, and body powder.
As we celebrate International Women's Day this month, we invite you to support a female student in Rwanda by purchasing a Girl's Hygiene Kit for her. Help instill dignity, confidence, and hope with the gift that will free her to pursue her future.
3/18/20 UPDATE REGARDING COVID-19 RESPONSE: Health and safety are a top priority as the impact of COVID-19 continues to be felt around the world. In response to increased needs during this season, we have adjusted the Online Store temporarily. While we recently encouraged sponsors to order Girl's Hygiene Kits for female students in our program, you instead have the opportunity to order food and soap for your sponsored student's family. Please click below to learn more. Thank you for your understanding and generosity!