Healthy food is vital to a successful education and a thriving community. Access to essential vitamins and nutrients improve a student's ability to pay attention in class, a parent's ability to work, and a community's ability to self-sustain. For these reasons and more, Africa New Life supports communities in building and growing three types of gardens:
Community Gardens
Home gardening and many vegetables can be new to families, particularly in Rwanda's eastern communities. For this reason, Africa New Life uses a large, community garden to introduce new vegetables and cultivation skills. Today, there are community gardens in Kageyo, Rubavu, and Bugesera, providing vegetables to nearby schools and jobs for the community.
In 2022, Africa New Life harvested more than 50,000 pounds of fresh vegetables to serve at schools and New Life Bible Churches!
If families begin expressing interest in growing their own gardens at home, Africa New Life offers training, materials, and ongoing support for keyhole or double dug gardens.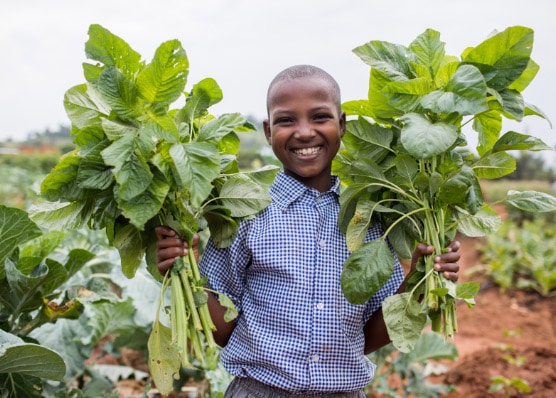 Keyhole Gardens
In 2014, Africa New Life partnered with Organics 4 Orphans to expand a small garden in the arid community of Kageyo. Community members tasted beets, kale, and lemongrass for the first time, and began working in the garden themselves to learn essentials like seed-saving and crop rotation.
The garden grew exponentially under the eye of our agronomist Theo, and soon more than 1,000 Kageyo students were receiving critical nutrients!
Parents expressed interest in their own home gardens, so Africa New Life partnered with Organics 4 Orphans again to launch the Keyhole Garden project. To receive a garden, families contact staff at New Life Bible Church, attend a training, and are provided with materials to build an efficient, raised-bed garden shaped like a classic keyhole. More than 600 families have their own Keyhole Garden today. In addition to boosting available nutrition, vegetable production has provided new business opportunities for the isolated area.
Double Dug Gardens
Upon seeing the nutritional improvements in Kageyo, Rubavu community leaders requested garden training for their residents as well. In May 2021, Africa New Life constructed a community double dug garden to introduce families to new vegetables and skills, just as in Kageyo.
However, unlike Kageyo, the soil in Rubavu is rich due to past volcanic activity, and the climate is friendly to plants. These differences make it ideal for double-dug gardens rather than keyhole. These gardens are low-cost, low-maintenance, and they take advantage of existing land by planting directly into the ground. We are looking forward to seeing families in Rubavu thrive through the empowerment of growing their own healthy foods.