FOOD & CARE RELIEF  FOR COVID-19 IN RWANDA
In many parts of the U.S., COVID-related restrictions are lifted and businesses have reopened, making it feel to many like the pandemic is finally over. But in Rwanda, it's not over yet.
Because many parents in Rwanda's poorer communities receive their income through temporary labor, the economic slowdown resulting from this virus means many families will have limited or no income coming in. And with schools out for the summer, families now have more mouths to feed during the day and little to feed them.
It is a dire situation for many.
Given these circumstances, Africa New Life is redirecting funds from our school lunch program in order to provide immediate food relief, hygiene products, and other forms of care to the most vulnerable families in our communities. Our staff is confident that the best way they can help families in this crisis is through provision of beans, maize (corn) flour, and soap.
We believe provision of food, hygiene, and related relief to the most vulnerable families in our communities is the most timely and strategic response we make today.
You can help with a donation to our Food & Care Program. Any dollar amount helps ensure vulnerable families' most critical needs are met until schools and businesses reopen. Every $15 provides an average family with emergency food relief for two weeks.
Click below to help support families for whom this pandemic just isn't over yet.
Latest Updates from Rwanda
November 2, 2021
Rwanda has been managing the threat of COVID-19 well through following masking and distancing guidelines. Today, 15% of the population is fully vaccinated, and more than a quarter of all Rwandans have received the first dose. Thank you for your incredible support during COVID-19 and for the emergency relief you helped provide, which helped sustain families during the toughest weeks!
At this time, Africa New Life is not providing emergency food relief. We are continuing to serve students and families through the Food and Care Program. Regardless of what each family is able to afford, the Food and Care Program ensures that every student receives a daily lunch at our schools.
By giving to the Food and Care Program, you can help Africa New Life continue serving Rwandan students and families through the gift of nutritious food through the end of this year and more!
July 22, 2021
As Rwanda fights a new spike of COVID cases, with very limited access to vaccines as of yet, the government has recently mandated a new series of restrictions and closures aimed at slowing the spread of this devastating virus.
At this time, most businesses are closed in Kigali, Rubavu, and several other districts. Social gatherings and activities outside of essential services are restricted or prohibited. During last year's prolonged closures across nation, temporary labor and many jobs disappeared overnight, leaving many families in desperate economic circumstances, even as food prices soared. Now the same thing is happening again. Because many parents in Rwanda's poorer communities receive their income through temporary labor, these are the families who are now most at risk. Parents already struggling to feed their children may have an even more impossible situation now with their children's schools closed for summer break and with less income than usual or none at all.
Africa New Life is once again providing immediate food relief to the hardest-hit families in our communities. Gifts of food relief can be donated through Food and Care Program, or sponsors can send food directly to their sponsored student and their family through the Online Store.
November 23, 2020
We are grateful to share that schools have begun reopening across Rwanda! While Africa New Life's local staff have been incredibly creative and innovative in finding ways to help students continue learning despite the interruptions of this year, we are grateful to see students able to return to classrooms again. Rwanda is taking a staggered approach to reopening schools:
Students who will be taking national exams next year have returned to school first.
All students in Primary 4 (4th grade) and above will be back in class by November 23.
Students in pre-school through Primary 3 will return to school in January.
Most vocational training programs, including our New Life Family Center's sewing and cosmetology programs, have reopened with heightened health and safety protocols.
As schools reopen, Africa New Life will be able to resume providing consistent lunches to students at the schools we manage. We will also continue to support students and families experiencing extreme food insecurity related to COVID-19 in the months ahead.
We ask that you continue to pray for health and safety for our staff, program participants, and students' families during the coming months. COVID-19 remains a threat to Rwandan communities, and the government and our staff continue to do everything they can to prevent its spread.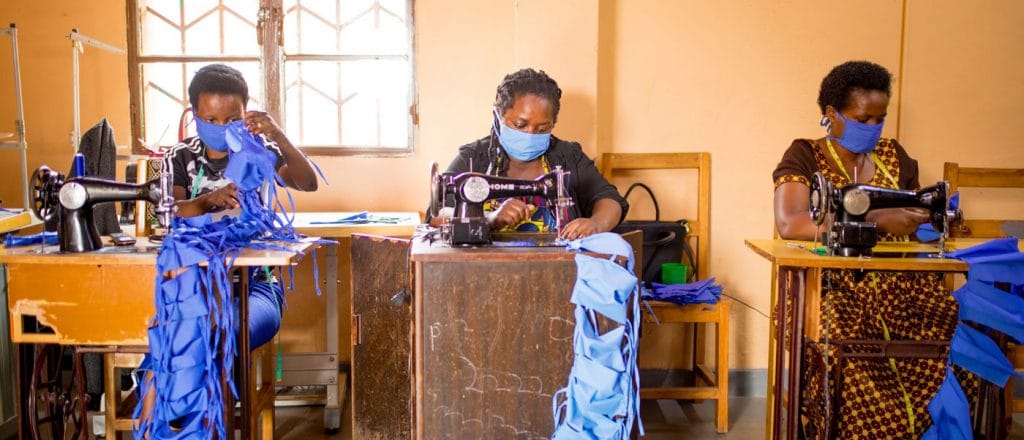 August 12, 2020
Although COVID-19 continues to spread in Rwanda, there continues to be zero cases amongst Africa New Life sponsored students. Educational staff report students are responding favorably to the printed learning packets. The incredible support for Africa New Life's COVID-19 relief plan is continuing to equip our meal and phone check-in response for sponsored students. In addition, Africa New Life is providing all 42 Dream Daycare children, and all 90 women attending the New Life Family Center with monthly food support until schools open. Family Center women are also receiving hygiene supplies and devotional packets to promote wholistic health.
Your help is even reaching former program participants! Face masks are required in any public space in Rwanda. To help students comply, Africa New Life hired forty New Life Family Center sewing program graduates to make one mask for each student – over 10,000 masks in total! Sponsors can purchase additional graduate-made masks for their student(s) through the Online Store.
In compliance with new requirements, several high-quality handwashing stations are being installed throughout Africa New Life's campuses.
Looking forward, Africa New Life is evaluating how to continue providing meals after school reopens in a safe and sanitary manner. This may involve distributing prepackaged food to be cooked at home.
The government of Rwanda continues to evaluate the safety and practicality of opening schools in the fall. Churches, including New Life Bible Church, are implementing safety measures for reopening. Please check back for updates!
June 19th
Lengthy school closures due to COVID-19 have posed a challenge to how our vision of educating sponsored students could be achieved. With most of our sponsored students lacking the resources to access broadcast lessons through radio and TV, Africa New Life Rwanda leadership brought together our best teachers from New Life Christian Academy in Kayonza, Kibenga Primary School in Bugesera, and Rwisirabo Primary and Secondary Schools in Kageyo to produce educational materials for each grade level covering a variety of subject areas. These materials are intended to allow every sponsored student to keep studying and remain engaged in their own education, discipleship, and growth during the lengthy period of school closures and lockdowns. Thousands of booklets—almost 3 million pages of content in all—are being distributed to each community and family we work with this month!
May 19th
Earlier this month, the government announced that primary and secondary schools will reopen in September. In the intervening months, the Ministry of Education will be providing educational opportunities via radio and television. Many students living in poverty do not have access to these media, however, and will therefore have a four-month break from formal education. Rwandan leadership, community staff, and educators have been responding quickly to assess the potential risks to students during the coming months and to determine how our program can mitigate those risks.
Sponsorship staff will care for students in the following ways until schools reopen:
Providing a relief bundle of food and hygiene supplies for every sponsored student each month until school resumes;
Partnering with community health care centers to ensure students have access to medical treatment, prescription medications, and transfers to hospitals and other care facilities as needed;
Visiting and/or calling every sponsored student's family to ensure timely awareness of risks and challenges facing families, to pray with them, and to inspire faith and hope as much as possible;
Creating and delivering comprehensive educational materials to encourage all students to study at home;
Providing Christian discipleship materials alongside the educational package; and finally,
Ensuring regular reports of any issues to the U.S. team to share with sponsors as appropriate.
Thank you!
Please continue providing food and hygiene for families in need.