MAKE AN IMPACT!
Africa New Life partners are encouraged to start their own campaign to support the work in Rwanda or support someone's campaign! Browse campaigns below and start your own by following the steps!
2
SELECT A
GIVING OPPORTUNITY
When you start a campaign, we will ask you to give to one of these funds or ministries: Dream Medical Center, Food and Care, Women's Ministry, ACT, or let us know which program you'd like to support.
3
START YOUR
CAMPAIGN
Choose a campaign type and then
click the button below to get started! Once you select a type you will be asked to create an account with our partner, Pure Charity, and then start your campaign.
Kageyo Church Sound System
Kageyo Church Sound System
Campaign Leader
Vince Koegle
Benefits which ministry?
Impact Fund
The newly planted church in Kageyo needs a sound system so that attendees can hear the preaching and worship. The goal is $5,000...and here's what the money will go to:
(3) speakers @ $295 each
(1) mixer @ $540
(1) power amp @ $783
(1) keyboard @ $1,626
(1) drumset @ $727
(4) microphones @ $60 each
(1) wireless microphone @ $200
We've also have a great t-shirt available for purchase and 100% of the profit goes towards this project. T-shirts are just $22 and you can get yours by
clicking here
.
Give
Give to this campaign
The Dream: 30K for Ashleigh's 30th
The Dream: 30K for Ashleigh's 30th
Campaign Leader
Ashleigh O'Hara
Benefits which ministry?
Dream Medical Center
Hi there! My name is Ashleigh O'Hara. I had the honor of being a part of the September 2015 IF:Gathering trip with Africa New Life Ministries to Rwanda. While I haven't been there since, I can honestly say that I left a piece of my heart there! I LOVE and miss Rwanda!

Some background on me: I LOVE birthdays and numbers. Gifts are my love language. I'm excited (for the most part!) to leave my 20s behind. In December 2017, it will be 12 years that I have been working in the medical field. This November, I will have been a Registered Nurse for six years.

I learned about the Dream Medical Center while I was in Rwanda. I heard stories of long wait times to see a doctor, extremely high patient-to-doctor ratios, and how some had to travel as far as the States for care.

Therefore, please join me in this dream of mine to raise $30,000 for the Dream Medical Center in Rwanda in honor of my 30th birthday!
Give
Give to this campaign
Campaign Success Stories
7th Grader Tatum Raised $3,500 to Build a Well
I traveled to Rwanda with Africa New Life in 2014, when I was 11. Driving on the dirt roads toward Kageyo, I noticed how many children were walking along the roads with dirty yellow canisters. Later I found out they were five-gallon jugs they use to carry mud-filled, contaminated water home. They were my age and even younger, walking 10 miles for nasty water!
I had so much, and those kids didn't have anything. I knew I had to do something. Actions speak louder than words. Back in America, I got five of my friends together and we planned a walk-a-thon to buy a well in Kageyo. We called it the Walk for Water. We got sponsors and carried two gallon jugs two miles. While I walked, I realized how hard it must be for those kids. That year, we raised $2,000!
The Walk for Water was so successful, the next year we did it with the whole school and raised another $3,500. That was enough to install a new well and repair others. It started with a thought that turned into an action. So many kids can have clean water now, and they'll be healthier. Now matter how big or small you are, you can help! If a seventh grader can do it, you can too.
Becky Raised $10,000, climbed Mt. Kilimanjaro, and helped build the Dream Medical Center!
I decided to jump into a campaign to climb Mt. Kilimanjaro to raise money for the Dream Medical Center because of my son, Judah. He is adopted from the very community where the medical center will be build. The very least I could do to say "thank you" to this community for caring for my son is to raise money for the Dream Medical Center.
The goal was big: I needed to raise $10,000 for the Dream Medical Center. A friend helped me come up with a goal of finding 20 families to contribute $500. I was blown away by the responses! Families found all kinds of ways to raise the money. One of my friends committed to roasting and selling coffee beans. Families saw it as a joy to do this together!
Truly, I raised the money through word of mouth. I talked about it all the time, and people would ask me about it constantly! I went on training hikes, posted on Facebook, and people started reaching out. After doing this, I know asking isn't a burden if it's something I believe in and it's God's design. In the end, I raised not, $10,000, but $20,000!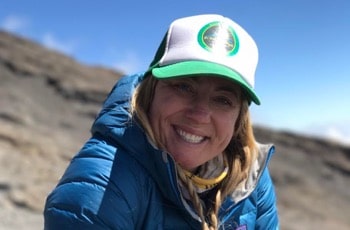 Raising Funds for Medical Help, With God's Guidance Every Step of the Way
My journey to Kilimanjaro started in 2005. My friend Becky and I were planning our first trip to Africa, and we started dreaming about climbing the mountain. Back then, time and finances got in the way. 11 years later, Becky called to see if I was ready! Many thoughts rushed through my mind—my kids, our finances, how crazy it would be—so I said no.
Over the next few months, I continued to pray and seek God. I learned more about Africa New Life and the Dream Medical Center this climb would raise money for. I couldn't stop thinking about it! God gave me several words during that time, like "HEAR ME," "DECIDE," and, finally, "GO." The thought of raising $10,000 was crazy, but the more I learned, the more I realized my fears were small compared to what the children in Rwanda have endured and the good this hospital would do.
I started praying and asking God to guide me through this process. Again and again, God reminded me HE was with me, in charge of the whole thing. Together with the help of many creative and generous friends, who partnered with me and volunteered their time and finances, and got started with fundraising events! Soon enough, I had raised over $12,000. Even my children asked to be involved, which made me so excited and proud. Together with their school, they hosted a Kilometers for Kilgali run that raised almost $3,000.
I was tired and busy, and definitely out of my comfort zone, but I knew I wasn't doing this alone. God was guiding me the whole way. This opportunity was life changing—not only for so many Rwandans, but also for me and my family! I am forever grateful to have been part of it.